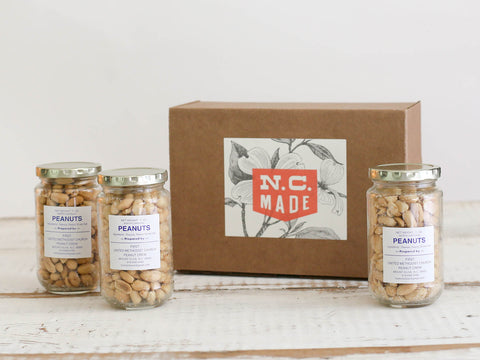 Sold Out
North Carolina Peanuts Box
$42.00
This product is unavailable
By popular demand, your favorite peanuts are now available all on their own in our beautiful packaging in TWO different sizes!
Select the Original Peanuts Box to receive 3 jars of peanuts packed in a small gift box, or the Large Peanuts Box to receive 10 jars packed in a larger gift box. 
Satisfy crunchy cravings with blister-fried peanuts from Mount Olive First United Methodist Church. The nuts are grown in Wayne county, boiled, and then fried to perfection in this typically eastern North Carolina style -- so delicious they caught the attention of folks up north.
Your peanuts are carefully hand-packed in our beautiful NC MADE packaging which includes an information sheet describing the peanuts and an optional handwritten greeting card on our signature dogwood stationery. 
NOTE: Due To Covid-19 Our regular Peanut Supplier is not Manufacturing
Bertie County Blister fried Peanuts will take the place until further notice!