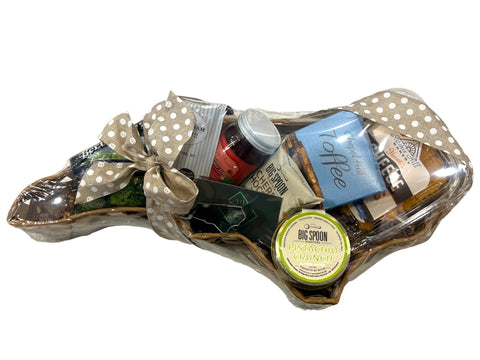 A Taste of North Carolina
$99.00
Bertie County Peanuts, a "Blister Fried" cocktail peanut from Windsor, NC.
Durham Toffee, Unbelievably buttery, covered in thick layer of espresso-infused dark chocolate, and topped with a smattering of crunchy almonds, this addictive sweet treat is handmade in Durham by home baker-turned-entrepreneur Rebecca Burnett.
Classic State North Carolina Shape cookie cutter.
Big Spoon Roasters Cherry Chocolate, handcrafted peanut butter bar and as well as nut butters made in Durham, NC.
Chapel Hill Toffee, perfecting moms recipe using pecans and dark chocolate made in Chapel Hill.
Ritchie Hill Cheese Straws-Produced in a historic creamery in downtown Concord from a 100-year old family recipe.
Peggy Rose's Hot Pepper Jelly made since 1976 with fresh premium products based out of Wake Forest, NC.
North Carolina shaped basket is 17'.