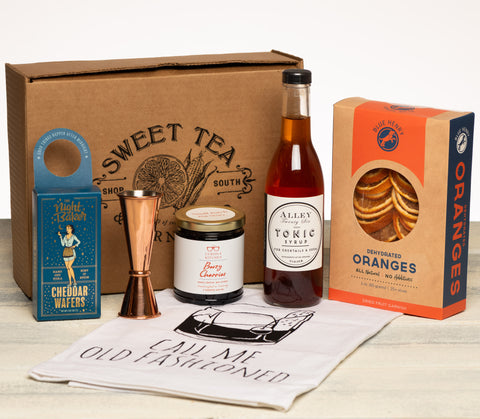 Sold Out
Old Fashioned Box
$0.00
This product is unavailable
The Night Baker cheddar wafers are bursting with cheddar cheese flavor and just the right amount of spice, based out Durham,NC.
Steel copper colored jigger.
Curious Kitchen Boozy Cherries are dark Italian cherries are soaked in a syrup made with Kentucky's finest spirits and pure organic cane sugar creating a deliciously decadent sauce, add one or two to your Old Fashioned.
Alley Twenty Six Tonic Syrup: Made from the bark of the cinchona tree (from which quinine is sourced), this tonic syrup was made famous by Shannon Healy at his downtown Durham cocktail establishment, Alley Twenty Six.
Blue Henry dehydrated oranges for cocktail garnish.
Call Me Old Fashioned tea towel handmade by Moonlight Makers in 

Asheville, NC.