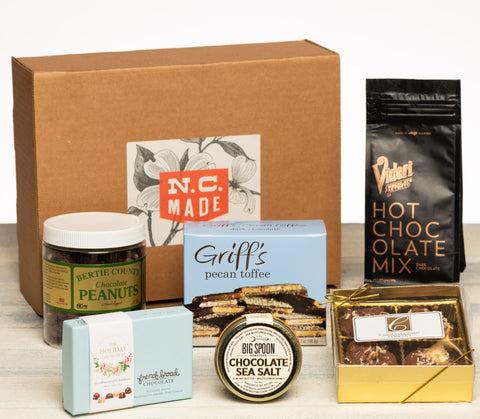 Sold Out
Chocolate Lovers Box
$96.00
This product is unavailable
Bertie County Chocolate Blister-Fried peanuts are made with some of the tastiest melted chocolate "hand flopped" to cool making various cluster sizes with the best blend of salt and sugar tastes ever and located in Windsor, NC.
Chapel Hill Toffee, perfecting moms recipe using pecans and dark chocolate made in Chapel Hill.
Carefully handcrafted peanut butter starring North Carolina-grown peanuts from Durham's Big Spoon Roasters. Pair with the flatbread crackers for a tasty snack!
Videri Hot Chocolate mix contains two ingredients: powdered dark chocolate and organic cane sugar and is always a timeless classic that warms hearts year round. Located in Raleigh, NC.
Caramel Pecan Paws from Carolina Chocolate Company is a small business that specialize in handmade chocolates that proudly serve in the Carolinas.
FRENCH BROAD CHOCOLATE ( THE HOLIDAY COLLECTION) is 12 Bonbons Handcrafted in Asheville, North Carolina.